Welcome to MRN A/S
Mission statement

- to offer effictive "end-of-line" solutions
(handling, packing and palletizing solutions)

MRN A/S wants to help companies meet their needs for handling, packing and palletizing; using fully automated packing of products eg. bags (plastic, paper, nets, etc.), trays, crates, pallets, etc, which are very demanding both physically and in terms of resources.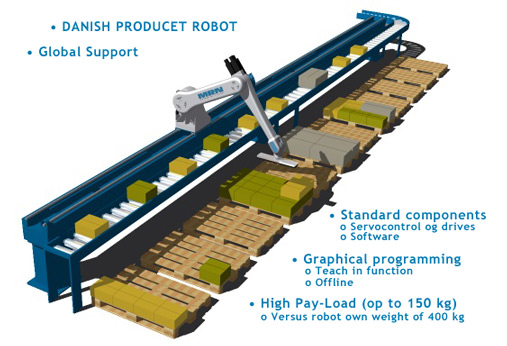 MRN A/S's goals

Our goal is to build an international sales-network of certified dealers / agents / integrators to accelerate the development, production and sale of roboStacker® solutions both domestically and abroad. This will be done in close cooperation with ELAU (Schneider-Electric), which today is represented in more than 123 countries and has over 105,000 employees..

MRN A/S solutions are used today by several major Danish companies. Abroad, at this moment, there are robotic installations in Spain, Russia and Turkey.